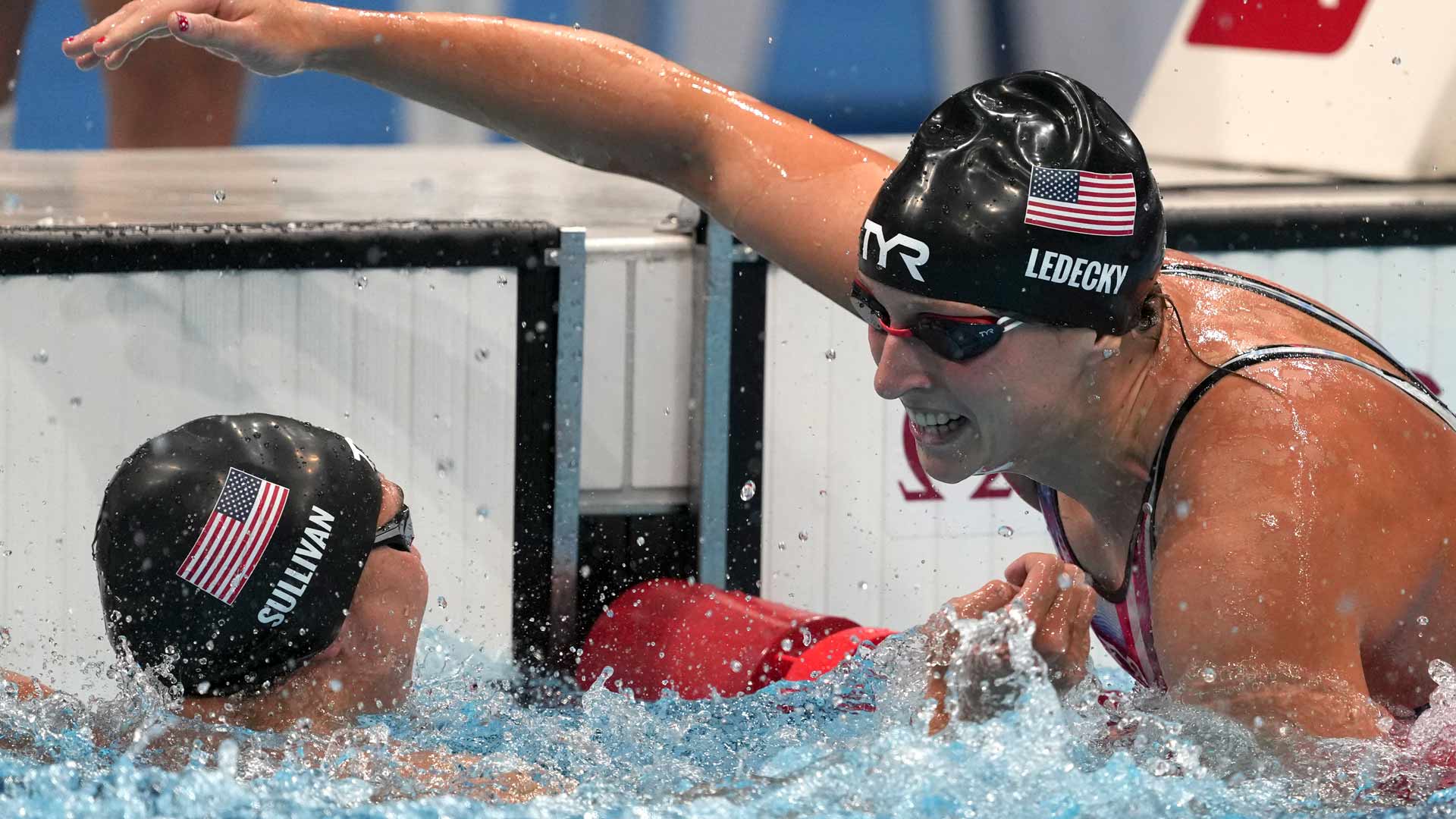 The U.S. swim team picked up four medals for a second straight night on Tuesday, headlined by Katie Ledecky's win in the women's 1500m freestyle.
Erica Sullivan secured a silver medal in the same final, while Alex Walsh and Kate Douglass finished second and third respectively in the women's 200m individual medley.
Ledecky, Sullivan finish 1-2 in 1500m freestyle
Ledecky became the first-ever women's 1500m freestyle Olympic gold medal winner. Ledecky finished with a time of 15:37.34. Fellow American Erica Sullivan finished with the silver medal in second and German Sarah Köhler came in third to earn a bronze.
Walsh, Douglass medal in 200m IM
Team USA took home the silver and bronze medals in the women's 200m individual medley, with Walsh coming in second and Douglass finishing third. The Americans finished behind gold medal winner Yui Ohashi from Japan.
Team USA Doesn't Medal in Men's 4x200m Freestyle Relay
The United States men's 4x200m freestyle relay team did not reach the podium in the final. The lineup of Kieran Smith, Drew Kibler, Zach Apple and Townley Haas were in a tight race for the bronze medal, but came up short and finished in fourth place.
Great Britain's relay team earned the gold medal. The Russian Olympic Committee and Australia came in second and third for the silver and bronze medals, respectively.
This is the first time in history the U.S. has failed to make an Olympic swimming relay podium.
Ledecky finishes fifth in 200m freestyle
Ledecky, the reigning Olympic champ, couldn't make the podium in the 200m freestyle, finishing fifth with a time of 1:55.21. Australia's Ariarne Titmus won the event in 1:53.50. Hong Kong's Siobhan Bernadette Haughey finished in second for the silver medal and Canada's Penny Oleksiak came in third to earn a bronze.
Gunnar Bentz finishes seventh in 200m butterfly
American Gunnar Bentz came in seventh in the men's 200m butterfly with a time of 1:55.46. Hungary's Kristof Milak broke Michael Phelps' 200m butterfly Olympic record with a time of 1:51.25 to win gold. Phelps set the previous Olympic record in 2008 with a time of 1:52.03.
Japan's Tomoru Honda won silver and Italy's Federico Burdisso claimed bronze.