If you're a fan of UFC, then you're probably no stranger to watching your favourite fighters get injured during an event. This doesn't always spell the end of their career, but it's a worrying time for the fighter, fans and everyone that works for them. Sometimes the injuries see them take time off and fade from the spotlight, while others come back stronger than ever. Stipe Miocic, who's certainly cemented his legacy as one of the more successful athletes repping sports in Ohio, was recently sent to hospital after a brutal knockout in a match against Francis Nganno. He's also had an injured knee and even suffered a black eye after being poked in it by Daniel Cormier. Although he quickly got better from the eye injury, any injury like this is going to be at the forefront of a fighters mind the next time they go into battle.
Recently, during the UFC 264 main event, Conor McGregor lost his fight against Dustin Poirier after McGregor broke his leg and the doctor called time on the fight. This has led a lot of fans (and likely McGregor himself) to question what will happen next – will he be able to return to the sport once he's healed? Will he actually want to? While only time can tell what will happen to McGregor after his injury, we decided to take a look at other UFC fighters that have faced year-long injuries, to see what happened to them after the dust settled.
Anderson Silva was a huge name in the world of MMA – even if you don't closely follow the sport you're likely to have heard his name. To this day Silva holds the record for longest title reign in UFC history, which stands at 2457 days. Anderson Silva was a household name and a favourite to win, with an impressive 16-fight win streak by the time he stepped into the octagon to battle Chris Weidman at UFC 168 in 2013. Weidman finally ended Silva's win streak, but it wasn't until a rematch in December 2013 that Silva's life would be changed forever. Weidman successfully blocked a powerful kick from Silva that saw his leg snap in half, leaving him with multiple fractures. While at the time it looked to be a career-ending move, Silva went on to recover and was medically cleared to return to the sport less than two years later. However, Silva never returned to glory after his injury, winning only one fight in 5 years before retiring from the sport.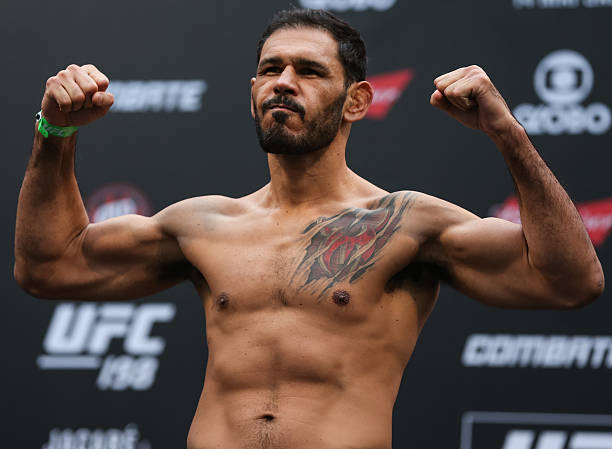 (Photo by Buda Mendes/Getty Images)
Antonio Rodrigo Nogueira
Antonio Rodrigo Nogueira, better known as Minotauro, has gone down in history for being on the receiving end of one of the worst injuries sustained during a UFC fight when he went against Frank Mir at UFC 140 in 2011. On first inspection it was thought that the competitor could recover without needing surgery, but this soon fell by the wayside. Nogueira received an intitial 60-day medical suspension but after further inspection he had to go into theatre to have 16 screws inserted into his arm in what was described as a "complex break". At the time, a lot of people heard about the extent of his injuries and expected him to not return to fighting after he'd recovered. However, just a year later Nogueira returned to the Octagon for UFC 153 and managed a second-round submission win over Dave Herman. Sadly the returning win appeared to be a fluke, as after a string of losses Nogueira retired in 2015.
(Photo Cover by Buda Mendes/Getty Images)
Roberto Villa is the CEO, Executive Writer, Senior Editor of FightBook MMA. Has a passion for Combat Sports and also a podcast host for Sitting Ringside. He's also a former MMA fighter and Kickboxer.
Set your Author Custom HTML Tab Content on your Profile page
SHOW YOUR SUPPORT AND SHARE THIS ARTICLE:
Like this:
Like Loading…
Related
——————–ஜ۩۞۩ஜ——————–
#mma #combatsportsnews #BRAVECF #ufc #muaythai #boxing #kickboxing #prowrestling #bareknucklefighting
Continue Reading